BlackTranny Review
BlackTranny has a variety of ethnicities represented on its website, though the vast majority of the performers focused on are African American. With another niche also being represented, the trans performers are the specialization of BlackTranny. They can be found in public shows, private shows, and specialty Gold shows as well. The organizational structure of the site is fantastic, with an area for all models, new models, and a variety of category pages listed along the left-hand side of the page. Each of these areas can be filtered in multiple ways as well, including regions, age, features, and language.
Why BlackTranny?
Here, fans of XXX fun get three things all at once. First, as a live sex cams site, they are getting sex in real-time. This includes people getting penetrated by toys, with their fingers, giving dildos blowjobs, and having sexual fun with other people on camera as well. Solo masturbation cam shows, as well as group sex cam shows and couples cam scenes, are all found here. As a user of BlackTranny, you will not need to sift through a ton of other genres of cam; everything here is focused on trans sex.
Features
Free live sex cam shows are one of the top features the site offers, with plenty of nudity and hardcore fun to enjoy without charge. Many people choose to participate in the Gold shows, as well as the private shows, providing additional perks. Gold shows allow people to pool resources for a semi-private show that gets more intimate, more hardcore, more adventurous, and in some cases, more creative. Private webcam shows add other benefits, with you being able to talk to your favorite sex cam babe and get the ideal custom XXX show for your particular fantasies. Private shows also offer the ability for two-way audio and Cam2Cam, increasing the intimacy shows offer.
Go TO Website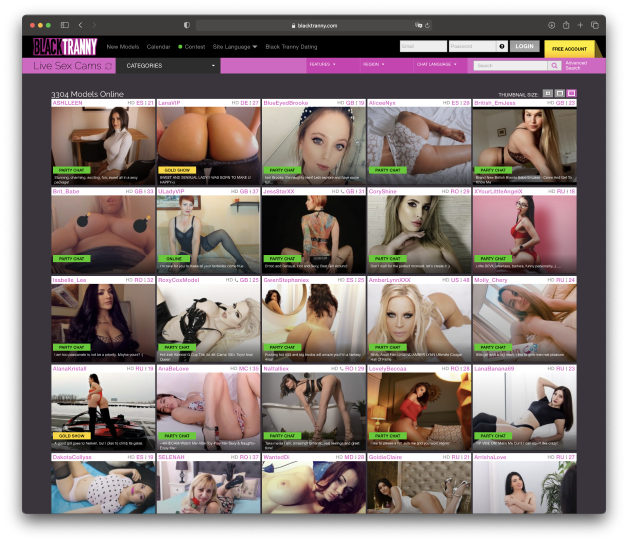 Benefits
Finding sexy trans women to have sexual fun with is hard to do in real life, so the site here is put together a top collection of beautiful women just for you. These ladies hail from all over the world and do many different types of shows. A lot of them have kinks and fetishes they enjoy catering to as well.
The Bottom Line
Now is the time to explore your fantasies in the biggest of ways. You can find African-American trans performers here; it is the specialty of the site. Other ethnicities are also found, with each babe being a gorgeous chick with a dick that loves to get it on for her fans. Get ready to have some fun. Both transgirls and transguys are found on the site, providing maximum flexibility at a competitive price. Free shows are also available.